Looking to explore your Medicare insurance options? You're at the right place!
Who we are.
We are your Premier Arizona Medicare Brokers. Senior Solutions USA is located in Tucson, AZ. As your local Medicare Broker, we work for you! We are passionate about helping people improve their quality of life! We help you through the maze of Medicare and find the right healthcare coverage that you need and deserve. We offer Medicare Insurance, Dental, Vision& Hearing, Disability Insurance, Retirement Plans, Life & Annuities.
We represent all major plans in the state of Arizona and New Mexico.
Products and Services:
Medicare Advantage plans
Medicare Supplement
Dental, Vison & Hearing
Hospital indemnity
Cancer, Health, & Disability plans
Long Term Care Plans
Low Income Subsidy
Dual Medicare/Medicaid Plans
Educational Workshops
Medicare Partners Who Care
Medicare Plans and available options vary by state and counties. For example, not all carries in Pima County service Cochise County. In addition, Medicare Plans, options, and plan providers change annually. You need a local Medicare partner who keeps up with these changes so you don't have to. Why should you work with Senior Solutions USA, Arizona?
Ensuring YOU get the BEST care no matter where you are in Arizona & New Mexico
One-on-one personalized consultations.

Annual plan reviews to ensure you are on the right plan for you

Work as your advocate with the insurance carrier.

Provide ongoing needs assessments as your needs change.
We have your best interest in mind! Our services are always free, objective and unbiased. We work with all the major insurance companies not just one company. Compensation is regulated by the Center for Medicare and Medicaid (CMS) and provided by the insurance companies. This allows us to focus on you and provide truly objective recommendations that meet your unique individual needs.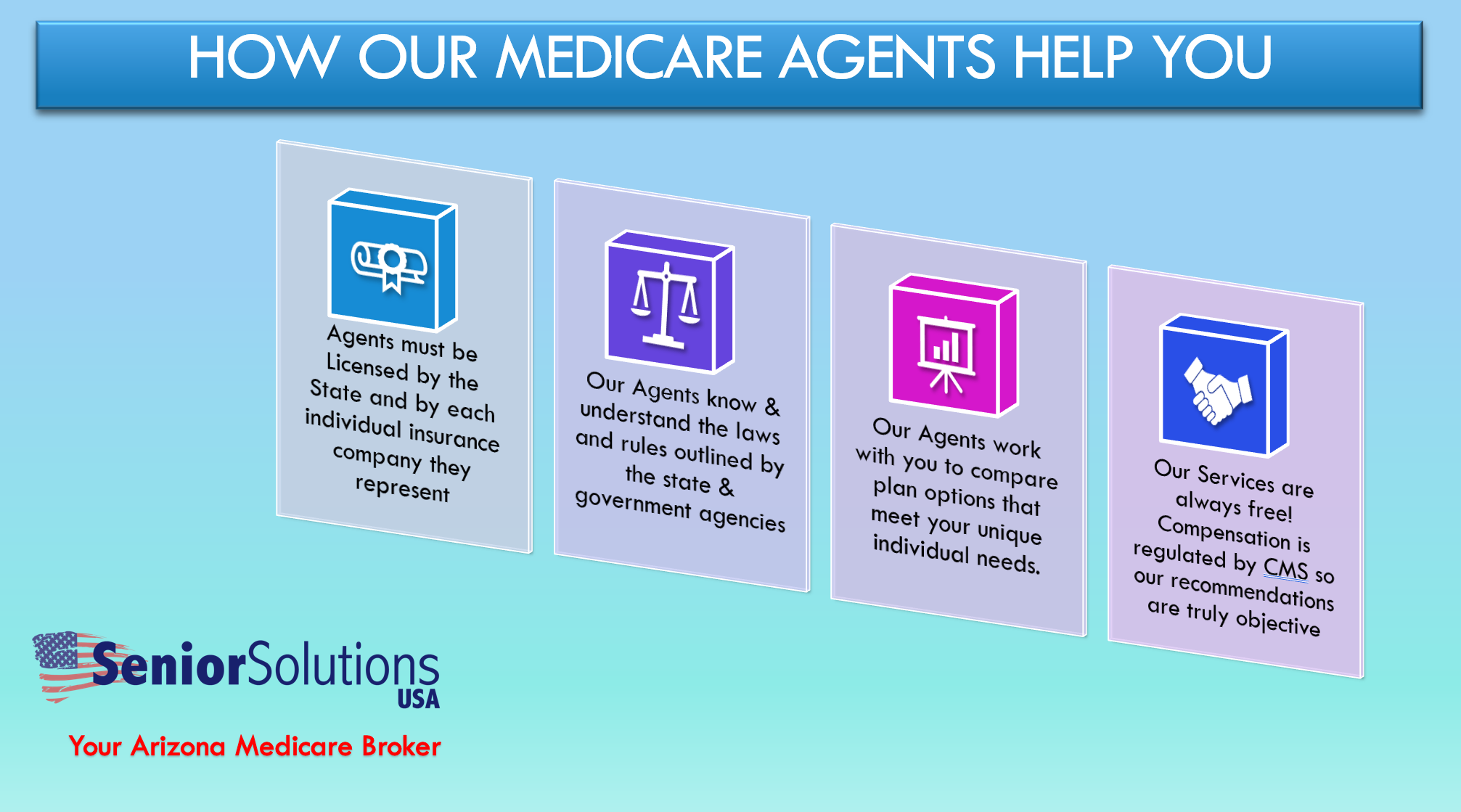 Advantages of working with Senior Solutions, USA -Your Arizona Premier Medicare Brokers
We work with all major Medicare Insurance carriers, not just one.

Our large portfolio truly allows us to meet your unique individual needs

For those who financially qualify, we assist with enrollment in

Arizona State AHCCCS

Arizona Medicare Savings Plans

ALTCS (Arizona Long Term Care Service) and

federal programs

We Specialize in Special Needs Plans for

Diabetes - available in select counties in Arizona & New Mexico,

Heart Care - available in Tucson & Pima County

Chronic Lung Disorders - available in Tucson & Pima County

Dual Plans -Arizona & New Mexico plan for those you qualify for both Medicare & Medicaid

Strong partnership with local Medicare insurance leadership

Partnerships with local providers in Tucson, Sierra Vista, Green Valley
Take a few minutes to learn about the types of coverage we provide and the educational resources we offer, and then contact us, to see how we can help with your unique Medicare Needs
Senior Solutions USA Your Arizona Medicare Brokers! We are here for you!